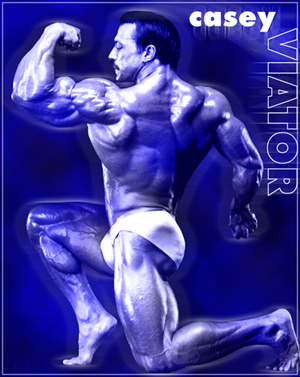 Casey Viator won Mr. America Bodybuilding Title when he was 19 years old; the youngest person ever to win.

He won Teen Age Mr. America, Jr. Mister America, and Mr. America (all 3 championships) in one year.

Casey trained with Arnold Schwarzenegger, Frank Zane, and Arthur Jones.

He writes for Muscle & Fitness, and flex Magazines.

Casey plans to build a certification school for trainers. This will be a complete training facility that will train trainers in a state-of-the-art facility that is medically supervised. Potential trainers will come from all over the southeast to learn to be fitness instructors.

Casey stresses the importance of a fitness routine... he helps clients with motivation, nutrition, and technique.

He has helped people that are obese, in rehabilitation, or injured. He has worked with professional athletes and movie stars.